Kelly + Scott
Acquaviva Winery
David and Stephanie of Hulthen Photography are amazing to work with.  Not only are they awesome as individuals and as a couple, they have a way of making their job and your experience fun and enjoyable!  They have an infectious energy and adorable banter about them.  Scott and I were worried about not being photogenic and feeling forced or posed on our wedding day and that was not the case at all.  They make it so easy!  Even though they captured every moment of our wedding ceremony and reception, they are respectful and not imposing one bit.  Most of the time, we didn't even notice they were there!  David and Stephanie are very professional.  They don't miss a single detail and can work with any type of weather/venue.  It rained on our wedding day and we were so nervous that it would ruin our opportunity to take pictures in the beautiful vineyards of Acquaviva Winery in Maple Park, but the rain cleared, and Stephanie and David were able to capture beautiful pictures with an overcast sky.  I remember at one point, Stephanie got down on her knees in a dress in the vineyard to capture a moment, and came up with dirty knees.  She didn't even bat an eye about it!  She was completely caught up in the moment and wanting to create the most amazing pictures possible!  Even our wedding party raved about working with them!  From our first conversation, to receiving our photographs and wedding album, they were easy to talk to and prompt to answer any questions.  We are so happy we chose Stephanie and David of Hulthen Photography for our wedding/special event and you will be too!
---
Meghan + Noel
Fishermen's Inn
When looking for a photographer we wanted to make sure that they were able to capture all of our special moments, going to make us feel comfortable, professional, and really connect with us. David and Stephanie did just that and more! We were impressed with David and Stephanie from the first phone call we had with them and we knew they were the ones for us. The return time on our pictures and items ordered was amazing and so was the quality of work. David and Stephanie make it a priority to connect with the couples and make them feel at ease knowing they picked the right photographers! We would highly recommend them for your future wedding and you will not be disappointed!
---
Yoko + Jon
Hotel Baker
Yoko and I live in Tokyo. Our families do not. Perhaps naively, we decided to organize our wedding from afar, without a wedding planner. When we booked the venue, the Baker clarified in slight disbelief that we wanted this December, not next. We did and were somehow able to get everything organized with only one trip in October. Skip ahead: Everything went stunningly. Our guests from Japan, Europe and, of course, across the U.S. had a ball and we have great pictures capturing those memories. October was when we first met with Stephanie and David. It was also when we took care of the flowers, cake, menu, invitations and what seemed like a thousand other odds and ends. It was busy. Professionally, Yoko and I both incorporate photos and other visual elements in our work, but we are not photographers and had little clue about how to best capture our wedding. We knew a few things we did/didn't want, but that was it. David and Stephanie walked us through the process and helped develop those ideas. This was simple and straight-forward. Then, they took things from there and worked their magic. We never worried about the photos and were so happy we had chosen Stephanie and David. The photo shoot before the reception put us at ease, and was scheduled to take advantage of natural lighting. They were both ubiquitous and unobtrusive during the reception. They captured a lot of moments we otherwise would have missed. We were blessed to be in their very skilled hands and are forever grateful that my brother-in-law, an educator, first directed us their way because of positive feedback he had heard from his students. We highly recommend David and Stephanie. We hope your special day goes as smoothly as ours so that you too will enjoy the photos for years to come.
---
Kendall + Mitchell
Whitetail Ridge Golf Club
Choosing David and Stephanie as our wedding photographers was the easiest and best decision we made. We knew the quality of their work was amazing because two of our family members used them for their weddings. We absolutely loved that Stephanie took the time to find the perfect place for our engagement photos and for our wedding portraits. On our wedding day they captured some of our favorite moments from the beginning of the day to the end. I can't speak highly enough of the quality of their work and how quickly we had our images back. Our engagement and wedding photos are our most cherished memories. We are so glad we chose David and Stephanie to capture our day! Can I also just say how much we love our wedding album! It came at the perfect time and it truly is my most prized possession! Thank you again!
---
Cara + Sam
Fishermen's Inn
We are beyond happy that Fisherman's Inn recommended David and Stephanie as our wedding photographer. We were both nervous about being photographed but during our engagement photo shoot Stephanie instantly made us feel so comfortable and we truly enjoyed the experience. Right after our engagement photo shoot my husband said "I am so glad that you chose her. She is so cool!" We didn't think it could get better. Then on our wedding day having Stephanie and David both with us was even better! They work so well together and made us laugh throughout the day! Also, my husband and I do not live in Illinois and planned our wedding from a distance which was challenging at times but David and Stephanie were so willing to work around our schedules and able to have some of our meetings over the phone which was so helpful. We would definitely recommend David and Stephanie for your wedding because they truly go above and beyond to make you feel comfortable and beautiful throughout the entire process.
---
Julia + Evan
The Brix
Stephanie and David were so great on our wedding day! They made everything seem so natural and the photos reflected that, too. They also captured special moments without us even knowing they were around. Everything was perfect!
---
Constance + Michael
Hotel Baker
My husband and I were so fortunate to have Stephanie and David as our wedding photographers.  Their photography is nothing short of high quality and professional, but what makes them unique is their artistic eye that on our special day caught all the perfect shots that we now get to keep forever.  Also important, Stephanie and David are organized and timely, which made them dependable on our wedding day and quick to deliver us our final products.  They were everything we could possibly want from our wedding photographers.
---
Carolyn + Erik
Acquaviva Winery
My husband and I both agree that hiring David & Stephanie was one of the best decisions we made for our wedding! From the consultation to the wedding day itself, their communication was seamless and they made us feel so comfortable. Stephanie handled keeping us on a schedule for all of our photos and it allowed us to focus on enjoying the day and not have to worry about a thing! We still get compliments on our wedding photos – one of the best decisions we ever made!
---
Katelyn + Isaac
Fishermen's Inn
While going through the wedding planning process, one of the most important decisions a bride can make is to choose the photographer that would capture the most special day of her life. After the first moment of meeting Stephanie at the Fishermen's Inn Bridal Showcase while seeing all of their work, we knew that they would be the perfect ones to capture our memories which we would treasure forever. Just after the first time working with both David and Stephanie, we could see their love and passion, not only for photography, but for making every moment of our day meaningful. Being a husband and wife team, we were able to have two photographers, with both of them bringing their aspects and creativity into our wedding photos. After seeing a few of our sneak peaks, we instantly fell in love with all of our photos. These two are an absolutely talented couple. Their photographs truly captured the feelings of love and  happiness of the day. I would highly recommend them for your wedding day as well!
---
Taylor + Phil
Acquaviva Winery
Stephanie and David were the perfect team to photograph our special day! They were able to help us capture our day perfectly. They were very friendly, easy to work with and had plenty of creative ideas for photos!
---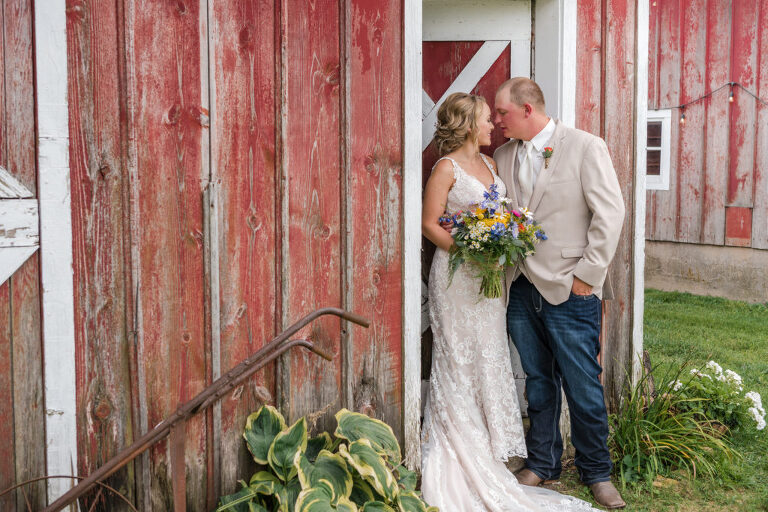 Kendal + Ivan
The Barn at Allen Acres
Stephanie and David exceeded our expectations as our engagement and wedding photographers! Not only is their work beautiful, but they both made planning easy and the process so comfortable and fun! We are grateful for them and will cherish the memories they captured for years to come.
---
Sarah + Chris
Blumen Gardens
Wedding planning can be so stressful, but every time we met with Dave and and Steph it was relaxing and enjoyable! They are personable, fun, and organized. We have both been in several weddings and out of all the photographers they were the best at making sure people knew where to stand and what to do. That is SO important. They got the quality photos to us quickly and the whole experience of going through our gallery was so fun! We are so glad we chose them for our wedding!
---
Theresa + James
Hotel Baker
You and David exceeded our expectations! You truly captured the essence of our special day. You were a pleasure to work with and your talented eye captured beautiful memories that will last a lifetime.
---